Pool Heaters
A range of pool heaters is available to suit your needs and budget. In particular, Zodiac, Hayward and Calyenty brands are recommended. We can even supply a reversible unit to cool the water.

Heat pumps work by converting the ambient air temperature into heat for the pool's water. In its' simplest form, it is an efficient fridge/air conditioning motor, but instead of using the cold and throwing away the heat it produces, it uses the heat and throws away the cold. It is about the size of a normal air-con unit.
The heater you need is determined by the capacity of the pool. Simply measure the length, multiply by the width, then multiply by the average depth. No need to be critically accurate as there's some flexibility. System requirements are available by clicking here. Send the information to us and we'll send a menu of prices to choose from. Your email address will be secure. We never pass such information to anyone else without express prior consent.
All pool heaters supplied by SARL Handyman France are compatible with all chemical systems, so whether your pool is chlorine, saline, bio-UV or bromine makes no difference.
For full technical and operating information, the owners' manual is downloadable as a pdf document by clicking here, and the full technical specifications pdf is available by clicking here.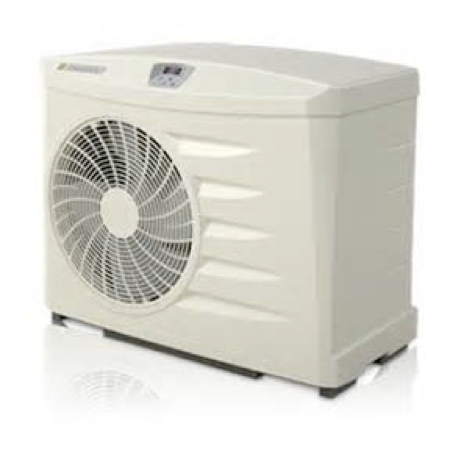 All machines carry a two year warranty unless stated otherwise.
The price depends on the model that is suited to the capacity of your pool (see the preceding paragraph for help). To establish if the existing wiring to the pool's pump room needs to be replaced you will need to consult a qualified electrician. Installation costs can vary according to the layout of the pump/filter and the structure in which the pimp/filter is housed.
The exact running costs depend on a number of factors, including the obvious cost per kW hour. Other factors include the capacity of the pool; which machine is installed (itself dependant on the pool's capacity); the ambient temperature of the air; whether or not the pool is shielded from the sun; the required temperature of the pool; whether or not a pool cover is used. SARL Handyman France cannot guarantee the running costs - 1€ per day is an indication only.